Join this lively conversation with communications professionals, Advita, Jenni and Trudy, as we discuss topics such as imposter syndrome, productivity and leadership. You'll pick up practical tips, tactics and good ideas. There'll be plenty of fun and laughter too. Listen while you cook, drive, walk or work. Each episode will be under 40 minutes so we hope you can find a place for us in your day.
Episodes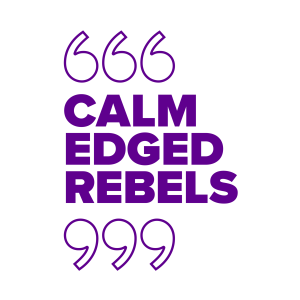 Friday May 12, 2023
Friday May 12, 2023
In this episode from our Calm Edged Rebels, looking at exploring about our values, and how they help us with our relationships, how they help us lead, how they help us make decisions, and how they help us move forward.
Jenni, Trudy, and Advita share some of their core values and how this has shaped their thinking and learning about themselves whilst giving great tips on how you can understand your values and how these impact your decisions.
To continue the conversation, and share your thoughts and ideas; please connect via Twitter, Instagram, or LinkedIn. 
And finally, for regular news updates and details on our Coaching Retreat, subscribe to our newsletter here.
Links:
Jackie Le Fevre - Magma Effect
A Leader Like Me –  www.aleaderlikeme.com
Previous episode on values:
Season 4, Episode 11 - Living and sticking to your values - Calm Edged Rebels
Season 3, Episode 6 -  Are power lists necessary? - Calm Edged Rebels
Blog by Calm Edged Rebels - Evaluating values - Calm Edged Rebels
Calm Edged Rebels values sheet - read the article and the link is at the bottom Evaluating values - Calm Edged Rebels